Weaning is another milestone in your babies' development. The current recommendation is to wean babies from around the age of 6 months old, when milk alone will no longer be enough to provide energy and nutrition for growth. The advice for weaning premature babies may be different, and it is important to seek advice from your medical professional.
Parents often have lots of questions around weaning their multiples such as: how do I know that my babies are ready to be weaned, what method of weaning should I use purees, baby-led weaning or a combination of both, how to manage milk alongside food and how will I manage weaning more than one baby – what about the mess!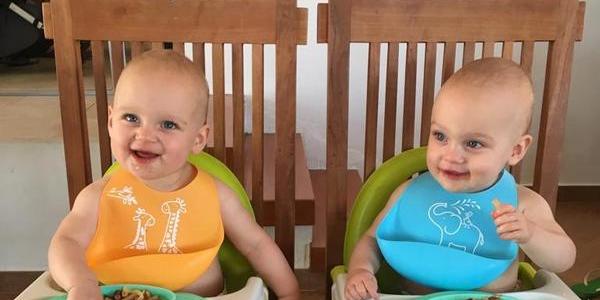 To help you prepare for weaning, Twins Trust has put together the following resources to provide you with some guidance and top tips:
Our weaning factsheet has information about when to begin weaning, how parents can manage with two or more, top tips from parents and other support available.
Our weaning online course is for parents who have multiples aged 3-6 months who are thinking of weaning in the next few months. The online course goes into more detail on the topic of weaning and is delivered by a nutritionist and mother of twins. The online course is 1 hour 15 minutes long and there is also the opportunity to ask questions. It aims to answer questions that many parents have including:

When should I introduce solids – breakfast, lunch dinner?
How often do my babies need solids in the first few weeks of weaning?
Where should I feed my babies?
What should I do if my baby/babies are not interested in food?
When should I introduce – wheat, dairy, eggs, chicken/red meat, fish?
What foods should I avoid?
What are the challenges of weaning two or more babies?
Choking vs gagging
It is usual for babies to gag slightly as they get used to more lumpy foods. It is the body's way of getting food back into the mouth to avoid choking. Encourage your baby to keep trying to chew the food. Eventually, they will learn to chew and bite food rather than just suck. Parents sometimes worry about their baby choking. Never leave your baby alone when eating. If your baby ever struggles to breathe, call 999 immediately.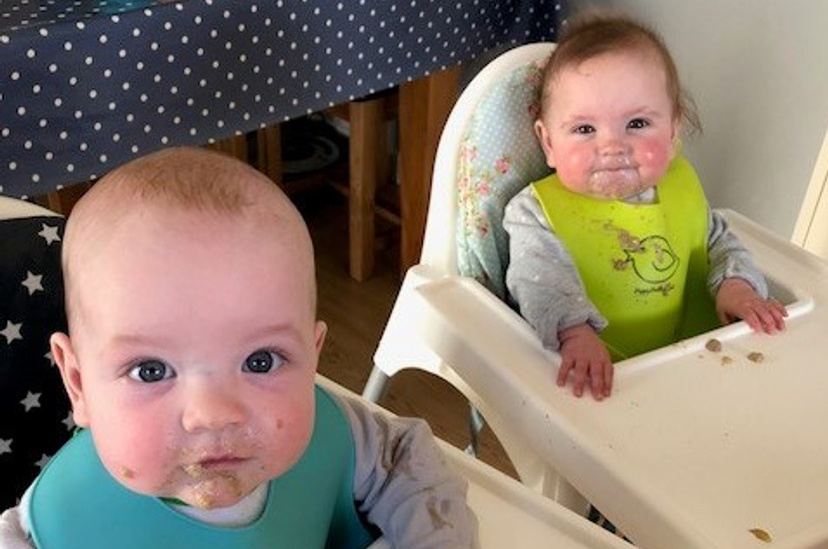 Weaning will be a mess! Here are some things we wish we'd been told before starting weaning with our twins, triplets or more...