It's likely that up to this point in your babies lives, you may have gone through many ways of feeding including tube feeding, expressing, top-ups, bottle and breast. The most important thing to remember when you get home is not to put too much pressure on yourself. If the way you're feeding the babies is becoming too difficult and putting too much strain on the family, it's important to be open and honest. There's no right or wrong way to feed them; you must do what's right for you and your family.
The Office for Product Safety and Standards has issued an Urgent Safety Alert for baby self-feeding pillows and is urging the public to stop using them immediately and dispose of them safely.
Self-feeding pillows/prop feeders present a risk of serious harm or death from choking or aspiration pneumonia.

Some other things to consider as a triplet or more parent: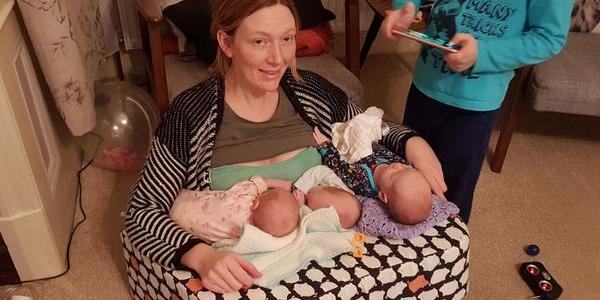 Your health visitor or midwife will be able to advise you on different feeding strategies. We also have our team of breastfeeding peer supporters who have experience with multiples and the hard decisions around breast and bottle feeding.

For more information please visit the NHS website for feeding advice.